​NEW HORIZONS INSPECTIONS
405-639-7408
"A HOME INSPECTOR WITH BUILDING EXPERIENCE"
Want a RecallChek for yourself, your family or your friends but you're not buying a home inspection? No problem, you can purchase one below for $29.95.
What is RecallChek?
RecallChek is a service that checks the appliances you own against manufacturer product recalls. Should it find anything, it sends you an email alert, along with the information on how to get your appliance fixed for free.

Why do we provide this service free with every inspection we do?
You have to request to receive free repairs on a recalled appliance and to do that, you have to know your appliance has a problem. New Horizons Inspections wants to protect our clients from faulty appliance-caused-fire-hazards.

How does RecallChek work?
RecallChek has compiled more than 250 million recalls from public records. To create a fail-safe system to check for dangerous flaws in home appliances, RecallChek adds new recalls to their database as they arise ensuring that you continue to be protected.

If a manufacturer designs a dangerous product, they must recall that item and fix it free of charge, RecallChek provides you with the information to resolve any potential recall issue promptly.
The monthly e-Newsletter RecallTrak is included with any home inspection completed by New Horizons Inspections where a RecallChek was completed. RecallChek is a lifetime service to ensure you stay up-to-date on relevant product recalls.
You are alerted to any new recalls on an appliance you own and given the information you need to get it repaired. Plus changing or adding appliances is easy and at no cost. You can continue to use the service for as long as you live in the house.


PURCHASE HERE, CLICK ON BUTTON!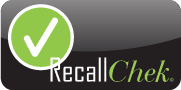 House inspectors in Oklahoma City serving Edmond, Yukon, Moore, and Norman. For more information or to schedule a home inspection in Oklahoma City or anywhere in the metro, call Edward or Leeanne McEntire at 405-639-7408 or email